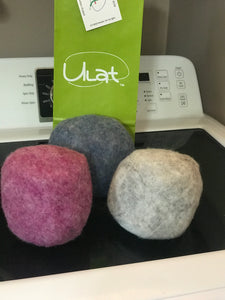 Dryer Balls
These are the real deal! 100% pure wool balls hand crafted in BC & are the perfect earth friendly solution to drying your clothes faster!
Wool dryer balls will decrease wrinkles & static and are the perfect alternative to using toxic commercial dryer sheets.

Sold in sets of three -  You'll need all three balls in each load. Just throw them in with your wet clothes & watch them work!
Feel free to add clear essential oils if you'd like a natural scent.